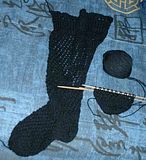 I had to stay late at work last night, but the good part of that was that since it was after hours and I was waiting for an incubation, I got to spend an hour of that incubation knitting. I also got in some knitting last night while watching Hellboy - for some reason I've been thinking about Hellboy lately. No, I don't know why either. After I snapped this picture, the DH offered to read to me, so there's about an inch more of foot eyelets than in this picture. A rather productive evening!
I learned a new bind-off technique... hopefully it works well to be stretchy. Cascade Fixation seems to make everything stretchy, but I wanted insurance... Curious folks can find the method I used
here
.
Now all I need to do is the new short-row heel, and then to zip up the leg. I might actually finish in time!
In other news, my friend
Inertiacreepies
said last week that she was going to
WEBS
, and asked if there was anything I wanted. This was an evil temptation that I gladly succumbed to. I'd been pondering the
Odessa
hat published by
MagKnits
. It then occurred to me that the
Odessa
hat would look gorgeous in a pale blue... the kind of blue that 1940s movie stars tended to wear. There are some lovely pictures of my Grandma in a blue pillbox hat, and I rationalized that it would be nice to remember my Grandma by looking fabulous in movie star blue.
Inertiacreepies
and I scoured the
WEBS
site for the named yarn with little luck, but settled on either Brown Sheep Cotton Fleece or Elsebeth Lavold Silky Wool, depending on which company had a better movie star blue. All that remained was for me to find a source of the beads.
Look what my yarn elf brought me at SnB a few days later!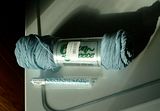 Not only did
Inertiacreepies
find me a gorgeous powder blue, but she took that yarn ball into a neighboring bead store and found the
perfect
beads to accompany it. I'm amazed and happy... thank you so much!
Inertiacreepies
did say she had a lot of fun being a yarn elf, though the lady in the bead store was impressed that she held up the yarn to all of the blue 6/0 seed beads in the store. :) (I have an exceptional yarn elf. Not only did she do all this for me, but she got it on *sale*. I feel so spoiled.)
Now I have two reasons to finish my Olympic knitting in a hurry! I've promised the DH that I'd shorten his vest next, but I'm really excited about knitting with beads for the first time. We'll see what happens. :)
Okay, off to see if my long incubation from yesterday has borne fruit. Happy knitting!