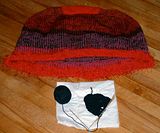 Hello again! You can see what I was working on knitting this weekend in this picture. I polished up the chocolate cherry kitty bed and bound it off. I felt very smart when I realized that I could use the leftover red eyelash from Mom's leg warmers to line this bed. I was going to send it to Mom for Valentine's day but... well, it's going to be late. Ooops.
So, who thinks that I should send it as is, and let Mom felt it, or that I should felt it? Hrrm. Maybe I should call Mom and ask her, but that would ruin the surprise.
Also in this picture you can see toe #3 and sock #1. The 'challenge' aspect of this Olympics for me is in learning new sock techniques, and at first my figure 8 cast on caused me a bit of trouble... along with the aforementioned gauge issue. I was really relieved to move on to the fishnet pattern. Here's another picture.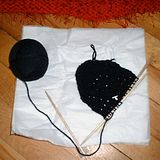 I worked on the sock some more at SnB and last night as well. Last night was the Short Row Heel Swearing evening. I don't know if my DH has heard me swear quite so much at my knitting in a while, but I finally managed to get that *$ heel turned.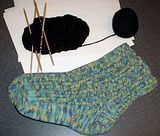 It occurs to me now that perhaps I should have turned the little footie-sock sidewards so that you could see it better. Woops. I'll try to remember to take a picture before I start knitting on the footie tonight.
You will also note a pair of usual suspects in this photo that I'm glad to show off. They've actually been finished for over a week and lurking in the laundry basket before their big debut. I'd like to report that the Dancing socks are very comfortable, and they're a little big on me. Woops. The speckles came out very cool looking.
So, what's next is finishing up the Lolita sock. I'll try to include more photos to come!
Go all you Olympic knitters, and good luck!