I guess I needed a sock break. Anyway, after getting more batteries at the supermarket, I reinvigorated the digital camera and again took ten shots to get two in focus pictures. I'm really going to have to get some snaps in natural light, but since it's monsooning today that might have to wait a bit.
Here's me standing on the chair, taking a picture of the yarn progression I was planning for the chocolate cherry kitty bed. It's knit with two strands held together, and I was planning on knitting half a ball of balls 1 and 2, then cutting ball 1 and knitting on with balls 2 and 3. When ball 2 is used up, I'll splice in ball 4... and so on, with the last little bit of ball 1 used with ball 8.
A closeup of the beginnings of the kitty bed on the frame...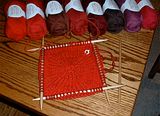 I do Emily Ocker's circular cast on, start on three needles, and knit on three needles until the 72 st increase, after which I rearrange onto four. At the next increase row, I increase onto a 24" circular needle, which will remain until I finish the bed. :) I've been debating increasing to a 29" circular later on, but I know from past experience that I'll be okay. :)
Yes, I will work on the sock this weekend. Really! :) It's just that the red is so cheery, and it's nice to work on something where the stitches are big for a change. ;) Don't wag at me so reproachfully, sock yarn. ;)