Monday, September 12, 2005
Saturday, September 03, 2005
I wanted to post a few pics of Kitty Bed Progress, hopefully fleshed out by more words on Monday.
Here's the finished, bound-off after being ripped and reknit, Kitty Bed #2.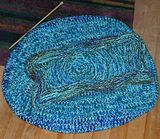 I wanted to take a couple of pictures to try and convey how big this sucker was. Look here.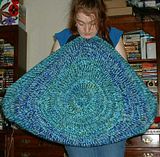 And this one, feeling a bit silly... RAAAAAAR!!!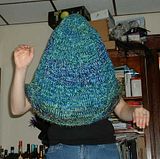 Then I felted it last week. I love the subtle coloring. :) To my surprise, the Wool of the Andes felted A LOT.
And again, for silly scale :)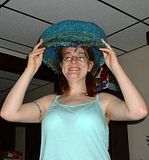 Please forgive the bad Saturday hair. Especially in the case of the grey Dancing Vines
sweater
that I finally finished all of the end weaving for. I decided that since this sweater was Much Too Much Too Big, I was going to send it to Mom for a floppy keep-warm sweater. She said she was very happy with this on the phone. Hopefully she'll still be happy with it. I took a picture of it before I packed it, the kitty beds, and a couple other things in a mailing box to send to Mom for her birthday next Friday. I haven't finished the Branching Out scarf yet. Maybe she'll get it late.
Okay, I really ought to go before Dan thinks I fell in. =)
Posted by

Trista
at 3:00 PM
1 comment: