Back from doing the conference thing. The first one was the 2005 Annual Protein Society Meeting in Boston, which I commuted to. I had had fond fantasies of the knitting I would do on the train, a la Wendy Knits. Unfortunately, the reality of my situation was that I needed to finish my poster for the second conference, the 2005 FASEB Glucose Transporter Biology Conference in Snowmass, CO. So, instead of knitting, my first picture is this: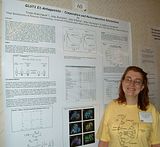 Yes, that's me in the yellow conference T-shirt. They ran out of poster board space so I had to tack mine to a wall. Enzyme kinetics confined to the ghetto! (Just kidding.) I had a lot of fun, went to conferences and was entertained by some and bored by others, went white water rafting in the rain, finished two books to the amazement of my coworkers, and even got a wee bit of airplane knitting done.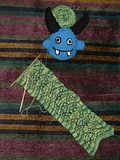 I admit, the scarf shows some SnB progress as well. This is the
Branching Out
scarf from
Knitty
. The ladies of SnB decided it might be fun to knit it as a knit-a-long. I'm knitting it in
Knit Picks Gossamer
in the colorway "Leprechaun". I hope to finish it for Mom's birthday, even if concentrating on knitting it can be a bit of a pain. I've not internalized the pattern yet so progress is slow.
The other thing I'm going to send Mom (though it's really a gift for her small horde of cats) is another Kitty Pi bed, made from the leftover
Knit Picks Wool of the Andes
that I dyed myself.
Dharia
made me the most lovely handspun, but I had enough for only one kitty bed and maybe a small purse (which I'm going to keep). I supplemented the dyed
WofTA
with solid colors in Spruce, Hyacinth, Blueberry, and Evergreen. You can see the first three in the photo, but I've not tied on the Evergreen yet.
Somehow, the kitty bed seems to be going faster than the scarf, but I will perservere.
Also, I will admit that I need to start knitting on my Mom's sweater. I've gauged for it and I think I'll need a size 7 needle... I swear I'll start after her birthday. :)
Oh, and the littly guy is my completed Gumdrop Monster. I just need to get Zeffrin's address so I can mail it to him. =)
He just begged to be in all the pictures this morning. :)