Well, I've been bad about posting, and I have 5 minutes... Ack! Here's a picture of me blocking the short-rowed fronts, with a little help :)
And a picture of the completely assembled raglan, with the two fronts basted together for adding the zipper.
The zipper has since been added, and the sweater wrapped and mailed. I'm hoping for a picture of Mom wearing it to put up in a bit. I'm going to call her tonight. (I hope)
Current project resting in the pretty morning sun this am: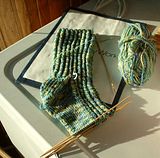 More later! Sorry about this!