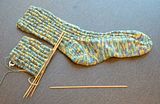 Over the weekend, I DID manage to finish closing the toe on the first Dancing sock, and cast on for another. Last night I knit all of the twisted rib section while at SnB. (It was a poor SnB turnout due to the weather, but we had fun nonetheless.)
I'm a sock ho at the moment, but I'm okay with that. Really. I'm looking forward to wearing this pair, as dancing about in the singleton is rather silly. For those of you unfamiliar with Knit Picks Dancing, it's very stretchy yet comfy. The sock appears too small but fits, hugging my foot nicely!
I discovered a lost Borders GC in my wallet over the weekend, and discovered that it still worked... so I'm now the proud owner of
Simple Socks; Plain and Fancy by Priscilla Gibson-Roberts
. Last Friday I bit the bullet and ordered
Meg Swansen's Sweaters From Camp
using the Amazon GC that I got for Christmas. It's going to arrive slowly (since I ordered it from Amazon and not Schoolhouse Press) but that's okay... I think I can keep busy.
Ladyscience
was ordering from Knit Picks anyway, and tempted me with combining our order, so now
yet another
sock pattern should be heading my way, as well as two new sock yarns for the allergy test. (
Parade
and
Essential
, if you're curious.)
I'm trying to decide whether or not I tell my mother about this blog. Any opinions? I do tend to make a lot of gifts for her. (Comments about whether or not she'll be able to FIND it again are probably apt; Mom's internet fu is spotty sometimes.) What do you-all think? Also, should I change the top graphic if my mother is going to be looking at this?