Yes, yes, twice in the same week. Egads!
My good friend
Inertiacreepies
came over last night to borrow the laundry equipment, giving me an
excuse
chance to drink tea, knit, and chat with her and
Ladyscience
for most of the evening. Shucky darn!
Anyway, I finished up the ears on the
Elenuial
hat, and took a really crappy picture of it this morning for the blog.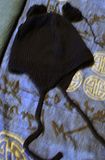 Anyone know how to make navy blue stockinette show up well? Sheesh. Other than that, I'm very pleased with this hat, and if I can find my pom pom mold it may sprout pom poms from the ends of the strings.
What else have I been up to? An
in progress
photo. (Arguably an equally crappy picture.) It cracks me up how much these look like pants on the needle.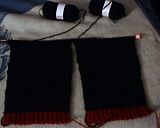 These are the sleeves for Mom's Ribbi Cardi. Since she's got long arms, like myself, I need to knit 20" of sleeve before starting the decreasing. At 6 rows per inch, by my math that's 120 rows. Photo was taken at row 80. (Chug chug chug.)
For a while I despaired of ever finishing these, especially knitting two at once. I'm feeling hopeful again, as I remember that the decreasing part of the sleeves goes much faster than the increasing and I'm almost to that point. Almost. Whew.
I'm thinking about adding some short row shaping to the front pieces of the cardigan to accomodate my, er, busty mother. (Very few people are surprised where I get my bra size from. ;) Has anyone added short rows to the front bits of a raglan sweater? I'm thinking I don't need to alter the sleeves. I'm definitely going to knit both front pieces at the same time so I can match the short row shaping - as well as all the other shaping involved. I've altered the cardi pattern a bit already for length, too... I think I'm taller than the designer, so a comfortable length on her resulted in a cropped sweater on me. (woops) I've also added a repeat of the k2p2 rib to make the shoulder a bit fuller, as my footballer frame is probably larger than the designer as well. ;)
Hopefully in a week I'll have a completed sleeve picture followed by a new pair of Cranberry 'pants' on the needle. I'm looking forward to working with red yarn rather than black, though the notion that I'm giving my mother 'Coal' (Wool of the Andes) for Christmas is highly amusing.