Hello all!
I had a nice weekend last weekend, (gaming Friday and Saturday!) and then picked up
SkullLady
& her boyo at the Framingham Express Sunday night. Delta being what it is, they were a tad late. This was nice as I got ahead on some more holiday knitting, but it was not-nice in the sense that I was pretty dead to the world yesterday. Many apologies if my drooling and exhausted self was offensive or spacey yesterday.
So, a whirlwhind update on the holiday knitting, as I dragged out and photographed everything that I still had (in most cases) and took pictures of it for the blog.
First up: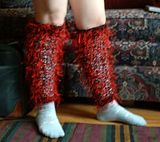 I lengthened the Mom Legwarmers. They are still considerably fugly, but they are warm and at least look like leg warmers now. They also fit well. As my DH said, "Ill conceived but superbly executed."
Next up: Felted goodness. I do like felting things.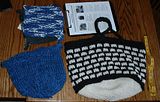 This is the pre-felted Knit Picks
Nantasket Basket
, in Wool of the Andes Coal and Natural. I thought it looked nicely penguin-y. This is also two balls of Wool of the Andes knit together (Bluebell and Winter Night) to make a felted dice bag for Kit. Unfortunately, I had to give Kit the dice bag soon after felting and blocking, because I wasn't going to see him closer to Christmas. I did learn that the felted dice bag attempt that I made blocked nicely into a blue fez that stood up on its own, but alas, I took no picture. If people are curious, I'll post the fez pattern. It worked okay as a dice bag, but the felted sides were a little thick given the doubled yarn and I hope Kit doesn't have too much trouble closing the bag.
The post-felted
Nantasket Basket
...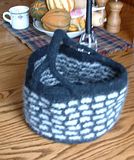 I really liked the way this pattern turned out, even if my handle was a little off center. I hope my MIL will like her basket. Many thanks and props to
Inertiacreepies
for lending me a cake pan upon which to block said basket. (If I'm going to keep making felted containers, I'm really going to need to make a point of getting better blocking molds.)
Now, you wouldn't think purple Lion Brand Wool-Ease would be hard to find, but for some reason none of the craft stores in this town carries it. And my friend Mary, who requested purple for her holiday socks, had also requested purple or green for her hat last year. Last year I caved and got green, even though purple is her favorite color. This year I splurged and bought her a purple. (Trust me, the socks in the photo are royal purple. Many apologies for the questionable photo.) I used Joan's Wool-Ease Sock pattern with Reynolds Encore Worsted and a smaller size needle than I usually use for the sock pattern.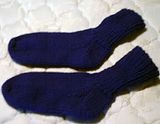 The Encore was a bit more expensive but soft and a pleasure to knit with.
Last but not least, my friend
Hazilya
mentioned that she saw a hat with cat ears at the store and was thinking of making one. I told her that I'd knit her one for Christmas (foolish me, adding to the Christmas list before Thanksgiving!) and gave her the hat on the Saturday after Thanksgiving. I felt a little like an Indian giver as I didn't attach the ears, but as she was planning on putting a face on her hat I figured she'd value options over convienence.
Hazilya
was thrilled with her hat, and sewed on the ears and lined it that very evening. I'll have to get a picture of her wearing it. This is stash leftover Mission Falls in Stone, and was barely enough to make what you see here.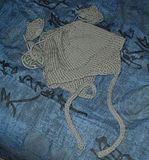 It is worth knowing that
Hazilya
's boyfriend,
Elenuial
, asked me for a hat for Christmas the following Monday. While I would have appreciated knowing this back in October when I asked my friends to tell me if they wanted knitted things for Christmas, I'm a sucker and am currently working on a hat for him.
Ladyscience
helped me out by selling me some navy blue Mission Falls stash yarn of hers to make the hat, especially since Mission Falls is being discontinued. Currently, I have just to make the ears, take a picture, and give the ears to
Hazilya
so she can attach them and line the hat. I'm thinking they'll be disgustingly cute.
What else am I working on? The Ribbi Cardi sleeves for Mom are inching along. I'll take an in-progress photo and post it, as I've noticed more FO pictures than in progress pictures here.
Only nineteen days left... I hope I can finish in time. :)