Hello guys!
I've been in the weeds of writing for work and Christmas knitting. I'm pleased to note that three of my planned knitted projects are completed. :) I'll show pictures of the ones that are going to people I'm fairly certain aren't going to be looking at my blog. (Which is a goodly portion of the world, which may not be a bad thing in and of itself. :)
First, there was a curious convergence of
Knit Picks
at my house. I bought a bunch of yarn from them for Christmas projects, and then my Mom bought me most of my Wish List with them for my birthday. I was amazed. Because of a quirk in timing, both packages arrived within two days. After I got to open the giant birthday box, I had THIS pile of yarn.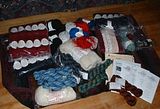 Impressive, no? This is both the Christmas yarn and the yarn for me. I'm geeked and amazed. I'm also the grateful recipient of a bunch of sock yarn, not to mention the sock yarn I bought at Rhinebeck, so I went out and bought a set of Susan Bates sock needles and Knitting on the Road with my gift certs. I'm looking forward to snuggly merino socks if I can ever get down to a sock gauge. (more on that later)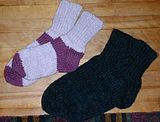 Here are two of the completed Christmas projects. The pink socks are for my friend Melonnie, who loves all things pink. The black-watchy socks are for my father, who I thought might prefer something that isn't *quite* as pink. These are using
Joan's Wool Ease Sock Pattern
that I found on the web, using
Lion Brand Wool Ease
in Blush Heather and Dark Rose Heather for Melonnie, and Black held together with Pines Print for Dad. I did knit them with nylon monofilament in the heel and toe sections, so hopefully that will help wear. I need to make one more pair of socks for Mary, but I've hit a small roadblock in that she requested purple, which isn't a color in my stash. I may need to go buy some Encore Worsted for a nice purple, since the local stores don't carry the Lion Brand in that color. (Well, either that or it's all been purchased in the pre-Christmas Present Frenzy.)
Monday after Trick or Treating I finished the second Mom legwarmer, which was what she asked for for Christmas. I've got to get a picture up of these... I think they're well made, and they fit me nicely, but I'm not sure that they're QUITE what Mom had in mind. I'm tempted to mail them to her and ask if she wants me to re-work them in some way. They're made from Knit Picks Charcoal Merino Style, held together with Dazzle in Beach and Butterfly Kisses in Ruby. I'm just not sure about the eyelash on the leg warmers. Maybe she'll love them anyway.
Presently I'm working on the
Nantasket Basket
for my Mother-in-Law, in natural cream and charcoal. It's important to note for anyone thinking of trying this pattern that the color of the handles is NOT the color of the bottom of the basket, which isn't shown in the picture. The bottom color is the contrasting 'wicker' color. I got a rather embarrassing amount of the bottom knit in the wrong color before I realized my error. Ooops. At least the pattern seems easy... it's slip stitched instead of Fair Aisle. We'll see if I still think so later this week.
As the rest of my house went elsewhere for a NaNoWriMo meeting, I had a fair amount of time to knit last night, so I did some gauging work for my socks. Now, I'm a Continental knitter, and rather loose, so the prospect of 8-9 st/inch is very daunting. Since I've determined that I just can't seem to get smaller than six stitches per inch knitting Continental, I've been trying to teach myself how to knit English on sock needles. This has been frustrating, but last night I got a few rows down to 7 stitches per inch, which is better. More practice later. I will admit that this motivates me to go back to working on my Christmas knitting, even if the patterns in my new sock book,
Knitting on the Road
, are very tempting. I bought this at Borders with my birthday gift certificate. I was seriously tempted by Nancy Bush's other book,
Knitting Vintage Socks
, but I decided to ask for the second book for Christmas. ;)
Okay, I should really go. Have a great week, everyone! I'll try to post the Muppet Leg Warmers of Doom tomorrow. :)
p.s. Check out my roommate and I for
Halloween
! I'm the one in all the green. I was hoping for Poison Ivy, but everyone thought I was the junior dominatrix to my roommate. Oh well.