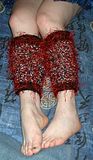 These are the leg warmers for Mom for Christmas, modelled by moi. It's Knit Picks Merino Style in Coal, Dazzle in Beach, and Butterfly Kisses in Ruby. This is what Mom picked out of the yarn catalog.
They don't look... right. I'm not sure how to fix it. I'm having visions of mutant muppets. Maybe they're too tight and not 'slouchy' enough. This could be for the
You Knit What?
blog. Not Good.
Should I make them longer? Looser? Ditch the eyelash? Just close my eyes, put them in a box, and wrap them for Christmas?
Eeesh.
(crossposted to my LJ, it's that silly.)