Went to Rhinebeck with the knitting ladies :) I was looking forward to this trip for months, and it didn't dissapoint. I'm rather slow on the picture upload, but I do have one post triumphant return.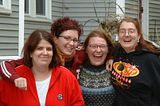 After learning that Rhinebeck this year would be the two days immediately preceding my birthday, I did some hard thinking and decided that I'd like to make a small party of it this year, with a hotel room and some friends. :) We had drinking, and fun, and looked at a lot of sheep and a bunch of hand dyed yarn. It was all good. I even remembered to take my allergy meds, as well as a few pictures.
I still think the spinners get the best deal at Rhinebeck, since there's a lot of washed and carded fiber that's pretty cheap, as well as some untreated fleeces that are equally cheap. However, the yarn there is lovely and the natural-colored alpaca was out in force. (I love the camel colored alpaca, even though I can't wear it. It's so soft and pretty. Melissa kept calling me an alpaca pimp because I kept encouraging other people to touch the alpaca I couldn't have. ;) There was some natural-colored merino there in a lovely, lust-after chocolate brown, but unfortunately I don't want to spend $10 for 100 yds of worsted on a whim... so I left it there, and took a card. If I'm still lusting after the chocolate later on this year, I may place an order for later. (They assured me the ram the yarn came from was nice and healthy, and I'm sure he'd be happy to donate his winter coat next spring. ;) The 'whim' project - a Highland Triangle Shawl, from Folk Shawls.
I also went to
The Fold
, where I got the yarn for my Zimmerman Pi Shawl? Remember that poor baby? Well, I worked like a demon on it last week in the hope of finishing it to show the nice ladies at the booth, but to no avail - with forty stitches left to bind off, I ran out of yarn. AAARG! So, I gave in and bought some more Ruby Slipper from The Fold (along with some Iolite for socks), and they were nicely admiring of the incomplete shawl (made wearable by Kat's kind gift of stitch holders. Thank you again!) I also discovered a dropped stitch back near the beginning of the edging. I have a feeling that one will get tied off. ;)
I think the big winner among our group was the
Brooks Farm
booth. Not only were their yarns luxurious, reasonably priced, and gorgeous, the ladies were sainted and broke off a small bit of their Harmony yarn to put in my sock as an allergy test. Now I know Brooks Farm doesn't bother me, which is possibly a Bad Thing for the pocket book but fun to plan projects around. Thank you so much, ladies! My crew bought a fair bit of yarn from them... go check them out!
I was looking for more
Interlacements
, but I was dissapointed in the scanty selection. Perhaps I got to those booths late.
Ellen's Half Pint Farm
had really cool hand-dyed yarns that they sold in skeins large enough to make a medium sweater, which was awesome. (Not to mention they had 50/50 merino silk in handpaint... sigh... :)
A Touch of Twist
was where Melissa found the alpaca to make her Breakfast at Cafe Du Monde gloves, if I recall correctly, and they had tons of the camel and chocolate alpaca that makes me jealous. I'm going to have to go through the cards I picked up for the rest of them, including the chocolate merino.
Other cool things I got... I got the first volume of the Barbara Walker pattern library, a cool felted pumpkin with a Jack-o-lantern face, and some wool for a felted pumpkin of my own making. (Later :) I was tempted to get an albino felted pumpkin for my MIL, but I wasn't sure that she'd like it so I forebore.
Overall, It was a lot of fun, even with getting lost and the somewhat skeevy motel we stayed in, but the weather was good and the drive was lovely, and even though I was tired when I got home, I'm still glad I went. :) I DID manage to finish the pair of Melonnie's Christmas Socks, and over the last couple days I cast on for the pair of Dad socks in the Christmas List of Projects. (Why Melonnie before Dad? The pattern makes Melonnie's size. Now I can convert to Dad size. :)
Last but not least, the day after Rhinebeck I found out that Mom hit me with a lot of Knit Picks yarn for my birthday. (The phrase 'yarn bomb' comes to mind, especially given that I'd also bought some yarn from Knit Picks to make Christmas presents from. Wow. I'm going to be busy for a while! Happily, I picked up some fine Susan Bates sock needles at AC Moore yesterday, so hopefully I should be set with the whole gauge thing, as a lot of the Yarn Bomb was sock yarn. I should take a picture of the Yarn Bomb and the socks.