The hat lies there so innocently, its fine yarn gleaming in the sun. Its bright colors beg me to touch it. But this is Lamb's Pride Bulky, a gorgeous, lovely, fun to knit yarn that makes my eyes itch like crazy and my head hurt after a while. Doesn't it look innocent lying there on the dryer? The title is Jayne's line from Firefly, if you're curious. :)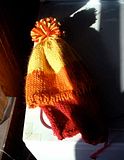 In other news, I haven't started Odessa because, well, I lost my winter hat and a week from now I'm going skiing. So, I need to finish that hat before Odessa. Really. *sigh* I'm making myself a second Kitty Hat from Knit Picks Merino Style. I started it twice last night... I'll give you the Typical Hntrpyanfar Hat Story now, if you're curious.
After making
Kelly
some cute crocheted flowers for the Baby Shower Emergency Sweater, I felt pretty good and thought that I'd try my hand at starting the Kitty Hat. (I don't mind the occaisional crocheted decoration. You get the 'all done' vibe so quickly, and I didn't even have to sew it onto something myself! ;)
Onto the Kitty Hat. I have black Merino Style, but it is NOT the pattern-required aran weight, so I need to swatch. Okay, no problem. I swatch in the round with dpns until I get a fabric I think would make a nice hat. (Really. That was all I wanted.) I measure my gauge. 4.5 stitches to the inch on my 10" size 2's. (I told you I'm a loose knitter.) The original hat pattern has a decrease pattern of 7 stitches, and my head is 22 inches. So subtract two inches for ease, and I need 20" of hat. Okay. Then I multiply 4.5 by 20 and get 90. Some mental fudging later, I think that 7*13 is 91. I tell my mild trisadekaphobia to take a hike, and cast on 92 sts. (I use a decrease to join.)
I knit four rounds of seed stitch, and then measure my hat flat on my long dpns. The flat circle is 11". Arrgh! Why is it that whenever I try a hat, it always starts out too big?
So, I ripped out the seed stitch and re-cast on 85 stitches. Maybe my trisadekaphobia was trying to tell me something. I'll take a picture later on after it looks like something round rather than four needles held together by a string. We'll have to see how this DK knitting thing goes... I've never knit anything but socks on needles this small. Maybe I should go get the half-a-ball(s) of Rowan Cashmerino Superchunky to make a ski hat, but that seems to be such overkill. ;)