Happy May Day!
I didn't update much over the last couple months. Mea culpa. First off, I have to show you the picture of Mom's
Twist
shawl that I sent her for Easter.
This was a quick knit, done in Broadway Lights, that used four and a fraction balls. (Very small fraction. Mom may see that yarn in purse form at some point. ;) Can you figure out from the picture how I screwed up the pattern? (I decided to leave it.)
Now, guess where I went on Apr 22nd?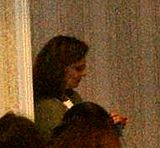 Yep, the SnB girls took their first Grand Day Out and went to see
Stephanie Pearl-MacPhee
at WEBS. It was a very fun day, so much so I forgot to eat at points. (By the way, Stephanie, I'm very sorry about the picture. It really is the best one. Yikes. She really looks much better than that.) I felt bad for Stephanie; while she was fun, funny and witty, she looked terrified. However, a 'group hug' with that many people would be MUCH, much worse. Our group was in the back corner of the first talk picture. Thanks for coming, Stephanie!
Here's the haul from WEBS and the bead store in Northampton (the yummy dumplings and yak sausage somehow didn't make it home from the Tibetan restaurant for their pictures...)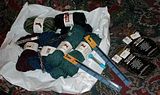 You'll note the presence of Elsebeth Lavold Silky Wool; I wandered with my fingers burrowed in a ball for twenty minutes trying to figure out if it would make me headachy. It didn't seem to, so I was happy! (I also didn't get any employees asking why I was using their yarn as a Chinese finger trap. Bonus.) This yarn looks very fun, and it was on sale for $5 a ball.
Too bad
Good thing they didn't have a full bag of the eggplant or cyan, or I'd have a new sweater project right now. (and I said 'no sweater projects!) I got some random colors to make hats and scarves, possibly Odessae with the beads you can also see in the picture. :) There's a couple balls of black for another Odessa or other black beaded hat for someone for a Christmas present, and you'll note that I got sucked into a ball of the discounted sock yarn. (I finger trapped this one also. It seemed to be okay... and if that's true, I've got a whole new happy world of sock yarn to play with.)
I also got some Addis, one for Mom's Wool Peddlar in a long length for when it expands past my 24" size 4, and a 40" size 0 so I can try this whole magic loop thing. I got a Chibi because it was cute, blue (I really like blue) and I've always wanted one. ;) I got some Inox sock needles in 0, 00, and 000 because it looked like I was going to snap my bamboo 0's on my car project, and I've been wanting more sturdy steel ones.
My car project to and from Northampton? Jaywalker socks. I've managed to get down to 7st/inch with the Socks that Rock yarn, but it's been a challenge for me. I worked on the heel flap only pretty much there and back. (some wooly nylon added to the heel flap for support.) Here's a picture from the Sunday after the Northampton trip... I've finally turned the heel!
At SnB last Monday, I picked up a bunch of stitches for the gusset, and then went round and round and round and round decreasing them away. Man, that seemed to take FOREVER. I finally finished the gusset on Friday. (GUSSET!) I've worked on the foot some, and I'll snap a couple more Jaywalker progress photos. (I might have one or two on the camera that I forgot about.)
I'm lucky; my Jaywalker-in-progress seems to fit my foot pretty well - not too tight! The stitches are hopefully tight enough that I won't feel them when I stand up. I'm grinding away at this pattern, though... it's a slow knit for me.
Still trying to finish the Jaywalkers for me, which means that for Mother's Day Mom is getting candles. (I doubt she'll be upset.) I've decided to use two leftover balls of black with the green yarn for the kitty bed, or one of black and one of the brown, to get rid of the foecal quality. Mom still hasn't sent me any kitty bed pictures, but I do have this one she emailed me last week. :)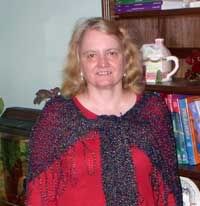 I think she liked her surprise. :)
Have a fun May Day!